Pet Resort
We are also a full-service veterinary clinic with access to a veterinarian, assisted by trained nurses, should your pet need extra care.
We are capable of providing emergency transport to Texas A&M's Small Animal Clinic if your pet has an emergency that requires 24 hour care.
RESORT CHECK-IN/OUT HOURS:
Mon-Fri: 7:30am - 5:30pm
Saturday: 8:00am - 11:30am
Sunday: 4:00pm - 5:00pm (pickup only)

Click here for Registration Form

* Please note that holidays book well in advance!

For your pet's and others' safety, we require all cats to arrive in a kennel and all dogs to be on a leash.
Pet Resort Services & Pricing
Fee is per pet, per day. Additional fees may be applicable. An additional one-time fee of $13.00 is required for Capstar, an oral tablet given to your pet in order to guarantee a flea-free environment during this and all future reservations. There is an additional fee for administering routine medications to our resort guests.
Daily fees include the following services:
Deluxe Runs - $49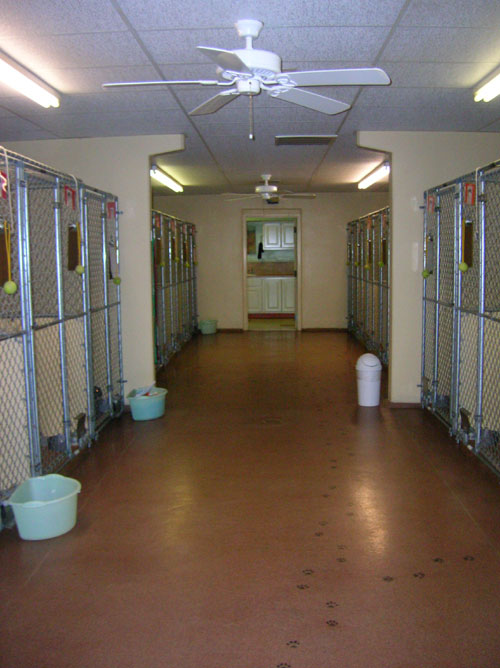 Our 4x6 or 4x10 runs can easily house single pets or families together or separately at your request.
We provide a minimum of five outings to our grassed play yards for exercise each day.
We feed Purina EN Prescription GI dry food twice daily. You are welcomed to bring your own food and instructions for feeding. (Families may be separated if they cannot eat together.)
A high standard of cleanliness is maintained in all runs, condos, and suites throughout the stay.
Relaxing music maintains a soothing environment.
Any guest that is with us for 3 days or more will be eligible for a complimentary bath.
Bring any bedding or toys that will make your pet feel more comfortable, excluding rawhides and animal by-products. We will only wash personal bedding if it is dirty or soiled.

back to top
Petite Suites (Canine) - $65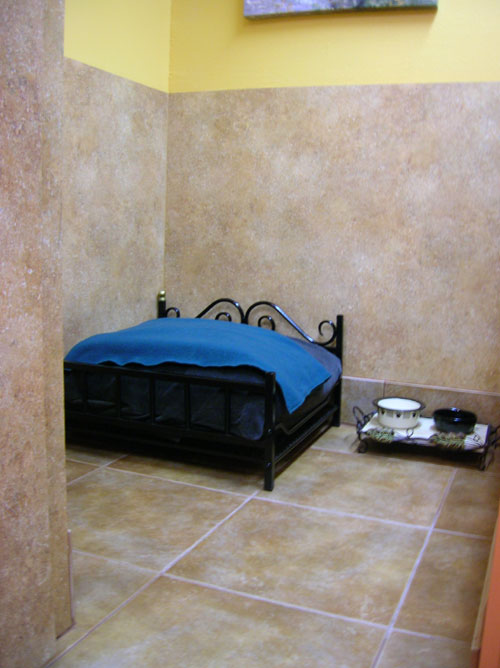 Our home-like decor provides for a cozy home away from home for our guests who are 20 lbs and under.
We provide a minimum of seven outings to our grassed play yards for exercise each day.
Weruva a canned, human-quality food is fed three times daily.
A luxurious wrought-iron bed with a memory foam mattress and plush-fabric covers is provided.
An additional bedtime treat is given nightly.
back to top
Petite Suite Daycare - $52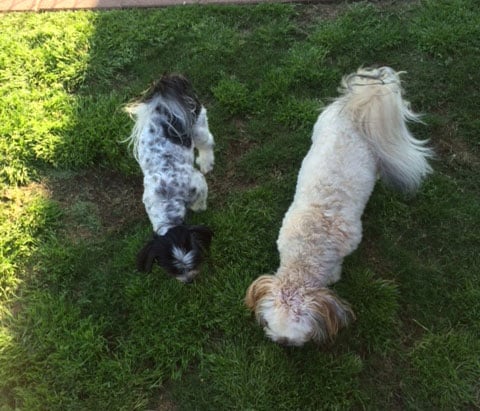 Bella and Baxter
Petite Suite Daycare is a service that we offer for those little pampered darlings that need lots of attention throughout the day.
All services listed above are provided except for the complimentary bath.
back to top
Kitty Condos - $43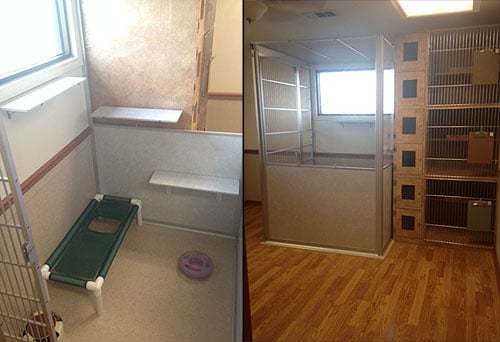 Our recently remodeled Kitty condos are spacious dwellings on our second floor, designed to be housed up and away from all of our canine guests for a less stressful visit.
Our feline guests relish the second story view from our cat tower where they enjoy a big stretch during two daily Play times.
We offer a high quality canned food diet called Weruva twice daily, as well as a high quality dry food option called Young Again. These diets are high in protein and grain free. You are welcome to bring your own food and instructions for feeding if you prefer.
back to top
Kitty Suite - $57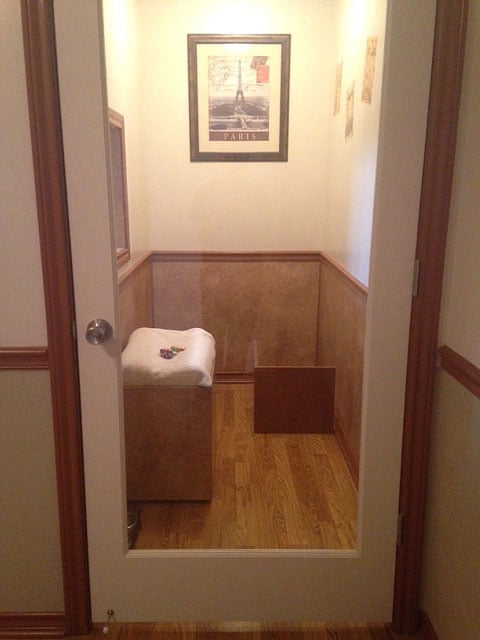 Our deluxe feline suite gives your pampered cat a premium of space and, for mental stimulation, a play station and toy that goes home with your pet after the stay.
These accommodations allow for lots of room to move as well as vertical space to enjoy natural lighting and a change of view.
This suite is a great option for cats that tend to be a slightly more stressed with change.
back to top
Kitty Daycare - $32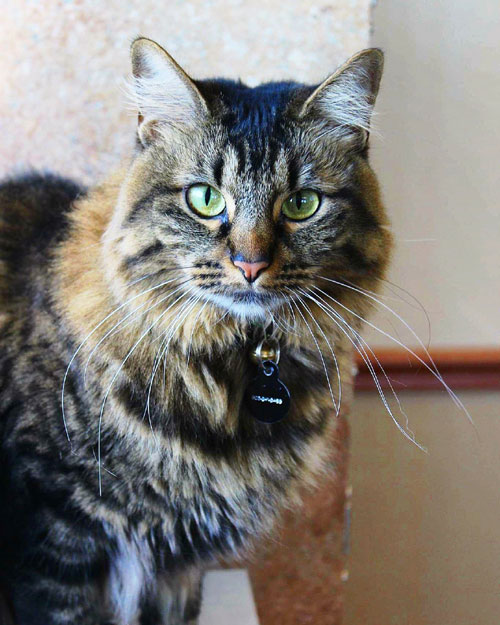 Rosaline
Kitty Daycare is great for home repair days, when doors will be getting opened and closed by house guests, or any time you think your cat needs to be kept safe and secure for a day.
Our Kitty Daycare provides all services mentioned for our kitty condos.
back to top
---
Pet Resort Play Dates
So what will your pet do all day while staying at the Aggieland Animal Health Center & Resort?
Ball Toss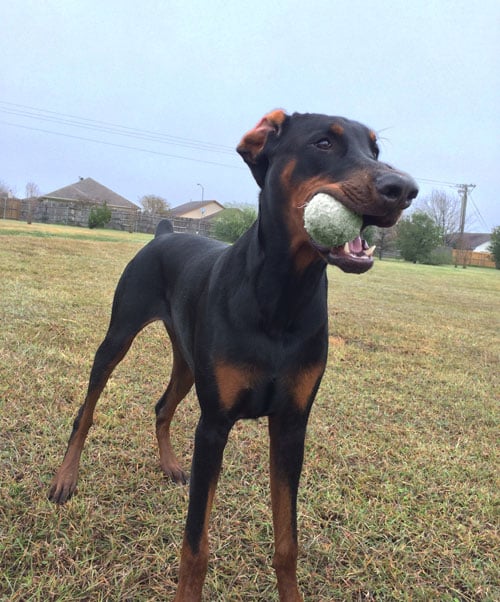 Diesel
If your canine companion loves the sight of a tennis ball, then this play date is guaranteed fun. Our impressive ball launcher will keep your pet running in our two-acre lot, and will leave him or her ready for a nice nap afterwards.
back to top
My Time
Schedule some one-on-one, focused attention for your pampered pet. This individualized attention and human touch from a member of the Resort staff is just what your companion needs, whether it is love, brushing, or just an old-fashioned belly rub, after this session, your dog will feel appreciated.
back to top
Best Friends Club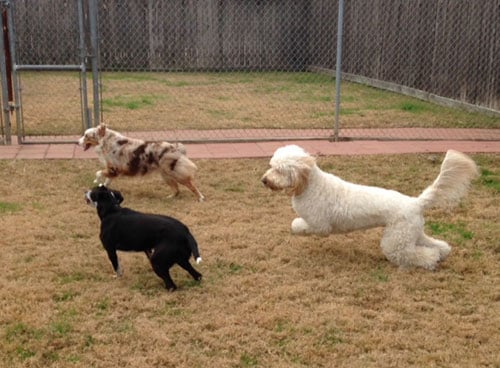 Our pet resort staff will match your dog with a list of similar dogs based on size, play style, and energy level. After an initial evaluation, we will introduce your dog to other dogs that we believe will play well with him or her. Through this process, we will generate a list of dogs that your dog enjoys spending time with. Each time you request a session, we will look on your dog's best friends list to see if any of his or her friends are visiting. If none of your dog's best friends are available, we will try to match up a new dog for your dog, or we will provide one of our regular play dates with our resort staff for your pet. Either way, your dog will enjoy the exercise and interaction of playing one-on-one in our spacious play yard.
back to top
---
Vaccination Protocol
Rabies
Distemper (DHP/FCRVP)
Bordetella (Intranasal)
Bordetella (Oral)
Canines (<12wks)
N/A
Varies
Within 1 year
>8 days before check in
Within 1 year
Canines (12wks-1)
Within 1 year
Varies
Within 1 year
>8 days before check in
Within 1 year
Canines (>1 year)
Within 3 years
Within 6 years
Within 1 year
>8 days before check in
Within 1 year
Felines (<12wks)
N/A
Varies
N/A
N/A
Felines (12wks-1)
Within 1 year
Varies
N/A
N/A
Felines (>1 year)
Within 3 years
Within 3 years
N/A
N/A
For our canine guests over one year of age, we require the Rabies vaccine to have been given within the last three years in accordance with the law, and the Distemper to have been given within the last 6 years. In the best interest of your pet's health we will only accept the intranasal or oral Bordetella vaccine, within one year, for all canine guests at our Pet Resort. The intranasal bordetella may be given any time prior to your pet's arrival. The oral bordetella must be given at least 8 days before the check in date as it takes a week for full efficacy. We do not accept the injectable form of the bordetella as it is less effective than the oral and intranasal forms. We will be more than happy to examine and vaccinate our guests during their stay. We offer an Intranasal Bordetella package for your convenience. The intranasal vaccine provides a more rapid form of protection as it works directly in the nasal passages. The intranasal vaccine also prevents your dog from shedding Bordetella and potentially infecting other pets whereas the injectable form of the vaccine does not prevent shedding. This is very important because a dog can appear completely healthy and be a carrier of Bordetella and shed it, infecting other dogs.
Feline guests are required to have Rabies and Feline Distemper (FCRVP) vaccinations, terms for which are variable depending on vaccine administered.
Terms for vaccines are variable depending on the vaccine administered and the veterinary clinic it was received at. All required vaccines must be administered by a licensed veterinarian, which could exclude shelter, breeder and owner vaccines.
---

13223 FM2154 (Wellborn Rd.)
College Station, TX 77845
Phone:
979-764-PETS
(7387)
Fax: 979.680.7385