Acupuncture
Click on the topic to learn more!
What exactly is "Acupuncture"?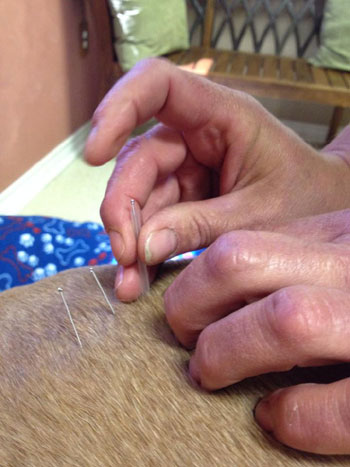 Acupuncture is the placement of small, solid needles in various acupuncture points to achieve energy homeostasis and balance in the body. By balancing the body's energy (the body's Yin and Yang), acupuncture enables it to more effectively heal from various conditions, fight off disease process and manage long term or life-long painful conditions. It improves the quality of life in patients and provides relaxation for the body and mind.
back to top
Does acupuncture hurt?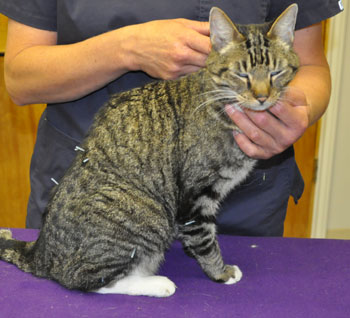 For those patients that are already painful, or perhaps extremely needle shy, it might seem that it would. However, most patients soon realize how relaxing and pain relieving the sessions can be, so they quickly accommodate to the placement of needles. In most cases, patients do not even react to needle placement.
Your companion's comfort is of the utmost importance to us.
During your canine or feline's acupuncture treatments, they are in a room surrounded by soft, relaxing music, have a soft cushion to lay on, and misted essential oils to set the mood for relaxation and contentment. We do not want them to feel apprehensive or frightened during their visits. Prefer to bring their own bed? Feel free to! We want to make the experience as pleasant and relaxing as possible – for both your pet and you!
back to top
What conditions can acupuncture help with in regards to my canine or feline companion?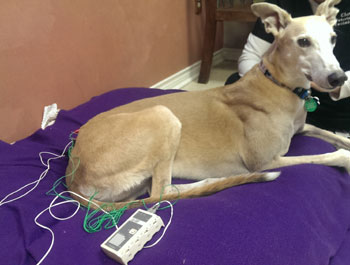 The answer to that is numerous! We see many patients during their geriatric years, helping them cope with arthritis, degenerative joint diseases, cancer well-being, lumbosacral pain, and other aliments. Acupuncture is also very successful in helping young dogs that are diagnosed with hip or elbow dysplasia. In both of these situations, many patients are able to have a reduction or even elimination of pain medications. Almost any medical condition that is diagnosed and treated with Western veterinary medicine can be approached from an Eastern acupuncture medicine standpoint as well. At Aggieland Animal Health Center, we use an approach that allows us to combine both Western and Eastern medicinal treatments to make your family member as comfortable and healthy as possible!
back to top
Can I still get treatment for my pet and keep my current vet?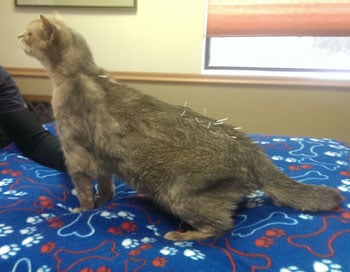 Dr. Wagner is able to work with your routine DVM in establishing a plan of treatment and staying in touch with them throughout the entire treatment process. Our intention is to supplement your DVM's current treatment plan, not to interfere with it.
back to top
About Ilka Wagner-Van Zandt, DVM, CVA, MAgr, BS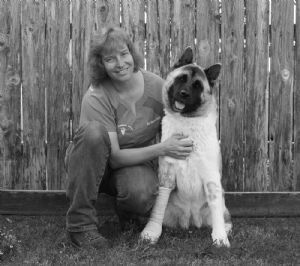 Dr. Wagner-Van Zandt graduated from Texas A&M University's College of Veterinary Medicine in May, 1997. In addition to her degree in Veterinary Medicine, she also holds a Master's of Agriculture in Animal Science with emphasis on Equine Reproduction (1991) and a Bachelor of Science in Animal Science (1988), both obtained at Texas A&M University. She completed the International Veterinary Acupuncture Society training courses to attain her CVA in 2013.
Dr. Wagner-Van Zandt has spoken at many national veterinary meetings, including the AAEP, AVMA, AESM, in addition to various horse breeder and owner conferences. She has also authored numerous articles in the American Journal of Veterinary Research as well as in many horse owner publications.
Dr. Wagner-Van Zandt has a strong interest in alternative medicine and did her acupuncture training through IVAS, the International Veterinary Acupuncture Society. She combines western medicine with acupuncture therapy, utilizing the best of each world to treat each individual patient. Her acupuncture treatments extend beyond horses to small animals including both dogs and cats. Her services are available in a clinic setting as well as home visits.
Acupuncture offers a holistic alternative to therapy for your pets well being. Used for their patients in China, along with herbal therapies, it is the primary approach for medical care for their patients. It can also provide a relaxing therapy for those pets who get stressed while being away from families and boarded here at the clinic. Used alone or in conjunction with Western medicine, it can assist in relieving pain and discomfort associated with arthritis, injuries, and surgeries. Increasing quality of life in our senior companions is also another benefit of acupuncture! Dr. Wagner-Van Zandt is happy to discuss with you in detail all of the possibilities that acupuncture can offer your pet in regards to their condition.
back to top
Cold Laser Therapy
Cold Laser Therapy - How Does It Work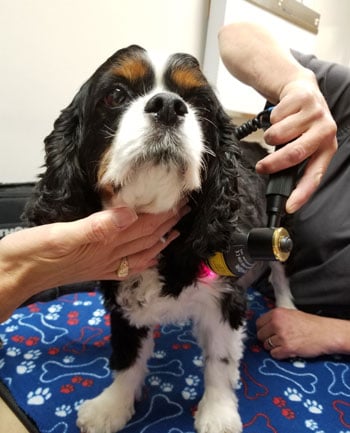 The high-tech name — light amplification by stimulated emission of radiation — sounds more approachable as simply "laser." It's also known as low-level laser therapy and cold laser therapy. The treatment uses a red and near infra-red light to effectively treat a variety of maladies in a safe, noninvasive manner.
Cold laser therapy has been a treatment option for humans for four decades. It was developed in 1967 when a researcher was exploring whether the laser caused cancer. He found that it did not, and he also learned of its healing properties.
The light stimulates a change in the mitochondria, which in turn reduces oxidative stress and promotes normal mitochondria function. It is much like photosynthesis in a plant; the light causes a photochemical change at the cellular level. The process allows more oxygen to be delivered to the cells, which leads to more energy for the cells. With more energy, the cells operate at an enhanced level. The result ranges from improved healing and cell regeneration to increased mobility and pain relief.
back to top
What is it for?
The wavelength, frequency and intensity have an impact on the tissue penetration of the light. Studies found that wavelengths in one frequency range have greater effectiveness reducing edema while another range is more effective with pain management and yet another is better for infection and healing. These variations enable the veterinarian to target the problem areas. The veterinarian can adjust the light treatment to achieve improved tissue repair in a ligament sprain or fracture, reduce inflammation that accompanies disc disease or create an analgesic effect following surgery or for arthritic joints, neuropathic pain, or pressure ulcers. The treatment is a boon for senior or rehabilitating dogs suffering from acute or chronic injuries, arthritis or other mobility conditions. Not only is it painless, it demands little from the canine patient. No hair is shaved and sedation is not necessary. The dog may stand or lie down, whichever is more comfortable, for a three to 20-minute treatment. The dog is held still while the veterinarian or technician applies the wand to the affected area. It's not unheard of for the dog to lie down and relax during treatments because it learns the experience is pleasant.
back to top
Treatment Plans
Treatment plans are personal and modified for a dog's specific need. Prior to the therapy, a veterinarian will perform a physical examination and create a plan. Some dogs with arthritis may start with two or three treatments each week, and as the dog progresses, treatments may decrease to once a week and eventually once every two weeks or so, depending on the response. How quickly results are seen is dependent on the dog's condition. The treatment impact is cumulative and may require more than one session. Some acute conditions may resolve within one or two sessions while chronic cases may require six or more treatments. With consecutive treatments, some owners reported seeing their dogs resuming activities like climbing stairs or chasing a ball. Another benefit is as the dog regains mobility and pain diminishes, pain management medications may be reduced. Cold laser therapy's major advantage is it creates another option for owners in the care of their pets. For some, decreasing the need for pharmaceuticals is a priority, and for others, having a noninvasive, low-stress effective treatment is crucial. Whatever the reason, cold laser therapy is another important tool that can be used to help us give our dogs the best quality of life within our ability.
back to top
Contact info:
For small animals, please call Aggieland Animal Health Center 979-764-7387.
For Equine appointments or in home small animal visits please contact Dr. Wagner-Van Zandt 979-777-5754.
---

13223 FM2154 (Wellborn Rd.)
College Station, TX 77845
Phone:
979-764-PETS
(7387)
Fax: 979.680.7385